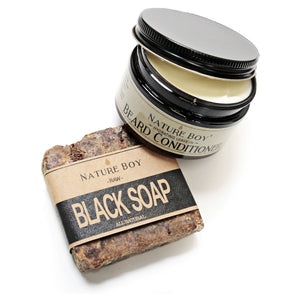 NATURE BOY Beard Cleanse & Condition set
Sale price Price $29.00 Regular price Unit price / per
Excellent beard cleanser & conditioner combo!
INSTRUCTIONS
1.) Start by washing your beard. Wet hands and soap. Rub bar together in hands until it starts to lather up. Apply lather to your damp beard, face or body. Rinse the soap bar after use and store on a dish that allows drainage. (Soap is all natural and will get soft if it rests in a puddle of water.)
2a.) Rinse-conditioner method: Scoop out enough to thoroughly coat beard, then rub evenly into wet beard. Work cream conditioner thoroughly into facial hair, massaging from root down to the tip of hair strands. Use comb or gently detangle hairs with finger. Rinse with lukewarm water.
2b.) Leave-in conditioner method: Beard should be thoroughly rinsed and slightly damp. Scoop out nickel-sized amount and pat evenly onto beard (a little goes a long way). Work cream conditioner thoroughly into facial hair, massaging from skin surface down to the tip of hair strands. For best results, apply the leave-in conditioner first as your base, then apply light coats of Nature Boy Beard Oil and Beard Balm to seal in moisture. Brush and comb to style.
----------------------------------------
BLACK SOAP: Also known as Raw African Black Soap, this special soap is a great beard wash, and also great for cleansing your face and body. It has a natural earthy scent and contains no added fragrance, preservatives or chemicals. Also beneficial to help relieve acne, oily skin and clear blemishes. Sourced from Ghana.
Size: 3.5oz
INGREDIENTS
Cocoa Pod Ash
Water
Palm Kernel Oil
Plantain Skin
BEARD CONDITIONER: Our daily-use moisturizer that leaves the beard soft and hydrated! This hand-crafted conditioner was formulated to be a great base product to use in tandem with light coats of beard oil and balm. Why, you ask? Because it is water based, which is a key component to soft moisturized hair. We've packed in natural ingredients like aloe vera juice, along with multiple plant oils and herbal extracts that will keep your beard nourished and hydrated longer, especially for dry coarse facial hair.

Size: 4oz.
Gluten Free. No Synthetic Fragrances. No Parabens. No Sulfates. No Mineral Oil.
Regular price: $30

INGREDIENTS
Water, Aloe Vera Juice, Olive Oil, Babassu Oil, Apricot Kernel Oil, Coconut Oil, Jojoba Oil, Rosemary Seed extract, Chamomile Extract, Shea Butter, Coza Plant Wax BTMS, Plant-based Glycerin, Vitamin B3, Vitamin B5, Vitamin B6, Vitamin C, Vitamin E acetate, Cetearyl Alcohol, Glyceryl Stearate, Sodium Stearoyl Lactylate, Panthenol DL, Propanediol (naturally derived preservative), Ethylexyl Glycerin (naturally derived preservative), Potassium Sorbate (food grade preservative), Essential Oil blend
------------------------------------- 

ADDITIONAL PRODUCT INFO
Black soap, also known as Ose Dudu, Alata Samina or Anago soap is a natural source of Vitamins A & E, is 100% natural and vegan.
*The raw soap and may contain tiny fragments of cocoa pod ash which can be rough against the skin, so it is best to lather bar in wet hands or on wash cloth instead of using the bar directly on the skin or hair.
*A good way to increase longevity of the bar is to break off a small piece, and store the larger bar in plastic. A little bit goes a long way.
*Black Soap's naturally glycerin-rich content causes the soap to absorb moisture from the air. Soap left unused and exposed to moist air over time can develop a thin white film. It is NOT mold, but merely the result of the air-moisture absorption process, and will rinse off easily once used again.
*Our conditioner can also be used as a co-wash/rinse-conditioner, in between wash days, and right after washing your beard. 
*NOTE: Although soap is natural, everyone's skin is different, and as with any cleanser, it is always a possibility that skin irritations can occur. If this happens, refrain from continuing use. 
*Soap is all natural and though it looks edible and delicious, stick to external use.
Total 5 star reviews: 1
Total 4 star reviews: 0
Total 3 star reviews: 0
Total 2 star reviews: 0
Total 1 star reviews: 0
100%
would recommend this product
JOSEPH S.

Verified Buyer

Amazing

This Leave-in conditioner is the best I've ever used!
Reviews Loaded
Reviews Added